If registration is required for this event, fill out the Registration form below and then click on Complete Registration at the bottom of the page.
Cruizin' at the Library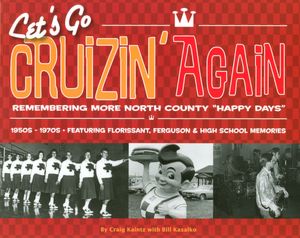 Event Type: **Author Events
Age Group(s): Adult
Date: 6/23/2012
Start Time: 1:00 PM
End Time: 3:00 PM


Description:

Who knew cruizin' could be so popular? Craig Kaintz and Bill Kasalko, the authors of "Cruizin' North County" and "Let's Go Cruizin' Again," will bring you back to those days. Remember dancing at the Castaway Club, dinner at Yacovelli's, or catching a movie at the 270 Drive In? Come and share these special memories and cruize again with your friends.


Library: Spencer Road Branch Map
Location: SP Multipurpose Room 112


Other Information:

Books will be available for purchase via cash, check or PayPal.

Presenter: Craig Kaintz and Bill Kasalko
Status: Closed

---
Sorry, this event has already occurred. Please register for another event.