Meet Bestselling Author Michael Buckley of NERDS & Sisters Grimm Fame!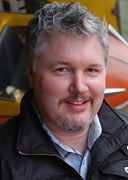 Event Type: **Author Events
Age Group(s): School Age, Adult
Date: 10/23/2013
Start Time: 7:00 PM
End Time: 8:30 PM


Description:

Kids love his books and now they can meet Michael Buckley in person. He is the bestselling author of the Sisters Grimm and NERDS (National Espionage, Rescue & Defense Society) series. His books are attention-grabbing, witty, fast-paced and pure fun. In NERDS, a group of elementary students use their talents to run a spy network from their school. In the newest NERDS book, Attack of the Bullies, Ms Information kidnaps the President's daughter, and Ruby (aka Pufferfish) must use her super-enhanced allergies to lead the investigation. Sisters Grimm is the story of Sabrina & Daphne Grimm who are Fairytale Detectives that solve mysteries involving good and evil familiar fairy tale and folktale characters. Books by Michael Buckley are hilarious, action-packed, and thoughtful. At the library his books are favorites of young readers.


Library: Spencer Road Branch-Community Commons Map
Location: Spencer Road Branch Community Commons ~ Siteman Cancer Center Event Room (Rm.240)


Other Information:

Books will be sold by Main Street Books. Purchase of a book may be necessary to get into the autograph line.

Status: Closed

Sorry, this event has already occurred. Please register for another event.